Hey everybody! Today's topic includes an image list of unique outdoor benches for your one-of-a-kind home. We are gonna look at a whole lot of different options to enhance your outdoor space, no matter the design or style.
This last Spring I spent most of my time creating a secret garden in the forest hidden behind my house. It was so much fun to be outdoors, create magical spaces, and see the changing of the leaves over time.
There were a couple of different spots that I really wanted to install a bench so that I could sit down and admire all my hard work. I was really unsure how to go about doing that though and what style I was looking for. Did I want to build the bench myself? Buy something online? Look for something in the local thrift store?
So many options! I wish I had seen a list like this so that I could be inspired to pick something out! I ended up skipping the bench that season, but when Spring hits again this year, I already know which style I'll go for.
30 Unique Outdoor Benches for One-of-a-Kind Home
Quick View
1. Modern Metal
2. Rock to Rest
3. Multifunctional
4. Reclaimed Wood
5. Nautical Vibes
6. Tree Skirt
7. Romantic Stone
8. Stave Curves
9. Succulent Savvy
10. Ibiza Lounging
11. Backless
12. Arched Trellis
13. Planter Box Seating
14. Butterfly Bench
15. Sweet and Simple
16. Drift Away Driftwood
17. Rustic Recliner
18. Bohemian Wicker
19. Pots for Legs
20. Woven Rope Seating
21. A Natural Look
22. Arc Curve
23. Woven to Perfection
24. Comes with a Shelf
25. Shared Space
26. Cambridge Casual
27. A Colorful Vibe
28. Contemporary Cool
29. Impressive Curves
30. Stylish Plastic
1. Modern Metal
A classic metal bench with a modern twist. No arms, lightweight, and a sleek design make a bench like this desirable for the present-day home. I love the geometric feel to a simple bench like this featuring striking straight lines.
2. Rock to Rest
A bench that will sway you into a peaceful daydream soundtracked by chirping birds and lit by warm sun rays. Fun colors and decorative swirls and curves all make unique outdoor benches like these so charming.
3. Multifunctional
You know that I'm easily sold on anything that has more than one purpose. Since I have always lived in very small places, being frugal with space is an absolute must. Turn a storage box into a comfortable outdoor seating with just a few extra coushins.
4. Reclaimed Wood
Using reclaimed wood to build a bench can create a lot of texture and dimension. Through the unique wood varieties there will be an artistic mix of tones and grains. Plus, it always feels good to recycle and reuse!
5. Nautical Vibes

6. Tree Skirt
Like a ball gown skirt dressing the gorgeous tree, these types of unique outdoor benches curve into a 360-degree circle. Such a romantic feel, I can already picture myself sitting in the Spring breeze with a book in hand smelling the blooming flowers nearby.
7. Romantic Stone
Speaking of romance, a vintage carved bench like this makes me feel like I've just jumped into an old Jane Austen novel. Placed perfectly amongst vast green foliage, it's the perfect place to hide in your garden, sit down, and get some much-wanted writing done.
8. Stave Curves
9. Succulent Savvy
Half bench, half succulent garden, and 100-percent going on my wishlist this year! Being surrounded by living plants just always seems to make one feel better, doesn't it? So why not incorporate a planter box into the back so you can have some quiet company while resting outside.
10. Ibiza Lounging
When picking out your patio bench cushions consider neutral tones that blend pleasantly with the soft-colored wood. This sort-of boho-chic look is like a page out of a magazine from Ibiza.
11. Backless
12. Arched Trellis
Is it just me or does this bench look like a furniture piece straight out of an old dollhouse? It's absolutely adorable! You can obviously pick other colors if pink isn't your look, but growing vines on the arched trellis above is genius.
13. Planter Box Seating
Two planter boxes set up wonderfully to frame a window, but what about all that space in between? All it takes is a few extra boards to connect the two, and you've got yourself a place to sit down and tie your shoes.
14. Butterfly Bench
Spring flowers have bloomed and so have the butterflies! Just picture a garden filled with red and yellow tulips, the butterflies enjoying the sweet fragrances, and you admiring it all from your magical butterfly bench.
15. Sweet and Simple
Armrests that double as handles so the bench can be brought in and out for hosting BBQs and backyard bonfires. A minimalistic option that is still sweet and stylish.
16. Drift Away Driftwood
What an impressive bench! Made almost entirely out of driftwood, this unique outdoor bench has a very maritime feel to it. Even with a simple furniture item like a bench, you can really get creative and find that wow-factor.
17. Rustic Recliner
Sit back, relax, and forget about all your worries. A rustic bench with a reclined back so you can really get your chill on. Great for a backyard deck, the front porch, or hidden in your secret garden.
18. Bohemian Wicker
Trendy and chic, the bohemian vibes are all about wicker and natural tones. This piece actually looks really comfortable which isn't always a feature in a bench. Sit peacefully outside and enjoy your morning coffee.
19. Pots for Legs
A clever design that uses the plant pots as the legs for the bench. The foliage protrudes from the circular cut-out holes, surrounding you with plant life as you take a seat outdoors.
20. Woven Rope Seating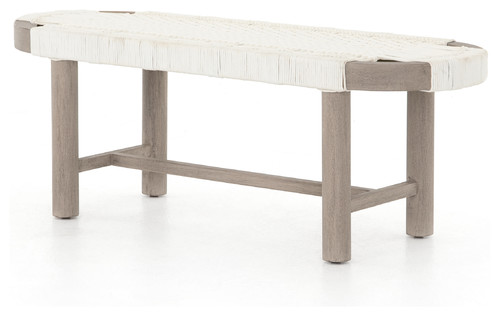 Find outdoor benches for your home
Rope is woven delicately together across the base of the bench to create a comfortable and charming seat.  The rest of the bench is very simple and has a soft gray tone to the wood making it ideal to fit in with your pre-existing patio design.
21. A Natural Look
Flat stones piled atop one another to create the base of the bench, while a longer stone lays across for a place to sit. I love the totally natural design that makes it blend seamlessly into the surrounding nature.
22. Arc Curve
23. Woven to Perfection
This has to be one of the more impressive benches I have ever seen. Not only was the bench itself woven with small branches, but they went the extra mile to weave a trellis demi tee-pee as the back. Truly stunning!
24. Comes with a Shelf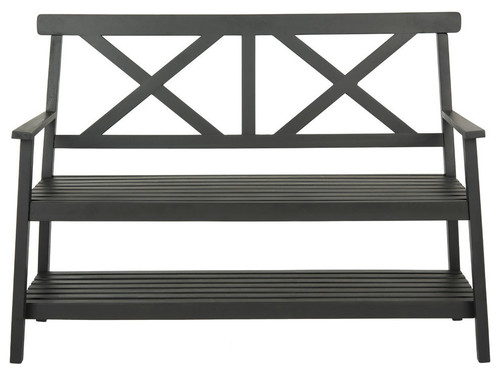 Find outdoor benches for your home
Just as I stated, these types of unique outdoor benches come with a shelf. Perfect for putting down your book when you have finished reading, to store an extra blanket for at night, or what about a place to set down your gardening gloves?
25. Shared Space
Don't just think about yourself when bench shopping, what about the neighbors? The neighboring birds, I mean! This bench has built-in birdhouses that you will definitely be thanked for with sweet morning songs.
26. Cambridge Casual
27. A Colorful Vibe
We have seen a lot of neutral looks and natural-toned benches, but what about the lot of us who like bright and bold? Your bench can really pop with bright pinks, yellows, blues, or whatever your favorite color may be!
28. Contemporary Cool
This bench has a cool contemporary feel to it that reminds me of the ever-trendy Scandinavian design. Sanded down wood for a softer look, and a romantically simple design.
29. Impressive Curves
A floating bench is built right into the curved cement garden wall behind. Wooden planks shoot out side by side to create a perfect sitting place for your study group, book club, or girls' night outside.
30. Stylish Plastic
Who knew plastic could look so stylish? With clean lines and contemporary design, this bench has a lot of advantages being made from plastic. It is weather-resistant, lightweight, and there is no worry of rust or mold.